TORANOTEC Launches Pedometer App "Money Step"
〜Enabling a totally new investing experience of gaining investment funds just by daily walking〜
Japanese fintech wealth creation service provider, TORANOTEC Ltd. (hereinafter "TORANOTEC") announced today the launch of "Money Step", a pedometer app, which allows users to gain TORANOKO points just by walking every day. The points accumulated in the app can be used to invest through the asset management service "TORANOKO", provided by TORANOTEC Asset Management Co., Ltd., a wholly owned subsidiary of TORANOTEC.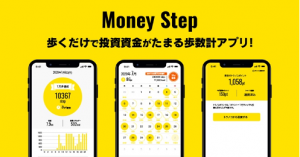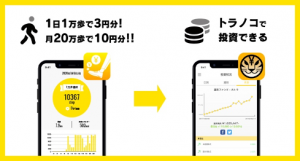 Features of Money Step App
Money Step is a pedometer app that allows users to accumulate investment funds just by walking every day.
Users will receive 3-yen worth of investment funds by waking 10,000 steps or more a day, and 10-yen worth for walking 200,000 steps or more a month.
The investment funds will be in the form of TORANOKO points that can be invested via the asset management app TORANOKO at any time (1 point = 1 yen). There is no expiration date to the points.
The app is fully equipped as a pedometer and tracks daily steps, burned calories, and walking distance, as well as offer calendar and diary functions.
OS: iOS (* Android version is scheduled to be released this fall)
Please visit the official site for details: https://money-step.com/ (Japanese only)
Announcing this launch, TORANOTEC's CEO Justin Balogh commented:
"We are very excited to launch our new app, Money Step. In this age of longevity in which many will live to become a hundred, it is vital to ensure that people have sufficient funds to cover their entire lifetime. Money Step directly links healthy everyday walks with long-term asset formation, which we believe will be a highly welcomed service. We hope that many people, both existing and potential users of TORANOKO, will use Money Step to steadily accumulate investment funds for the future."
About TORANOKO
TORANOKO is a unique investing app provided by TORANOTEC Asset Management Co., Ltd., offering a link between the world of daily consumptions and the world of wealth creation. Sourcing the transactions data of everyday life and in creating a gateway through which small change and loyalty points can be invested from 5 yen in 1-yen increments, TORANOTEC offers the easiest possible entry point to begin investing, expanding the access point to wealth creation and investing for Japanese consumers. Details of TORANOKO can be found here: https://toranoko.com (Japanese only)
Note: This is a translation of the press release issued in Japanese.