TORANOTEC Launches Air Mile Investment Service with ANA
〜Innovative Service to Utilize Air Miles for Wealth Creation through TORANOKO〜
Tokyo, February14, 2019 – Japanese fintech wealth creation service provider, TORANOTEC Ltd. (hereinafter "TORANOTEC") announced that it has launched the "Mile Investment" service, allowing the use of airline mileage for wealth creation for the first time in Japan. Starting today, members of ANA Mileage Club offered by the ANA Group (hereinafter "ANA") will be able to register their mileage account within the investment app "TORANOKO" and easily invest their miles by simply entering the number of miles to invest. By enabling the investment of airline miles, which a vast amount of people hold, in addition to small change and loyalty points, TORANOTEC further brings down the barrier to investment, driving the development of the world in which everyone can effortlessly engage in wealth creation for their future.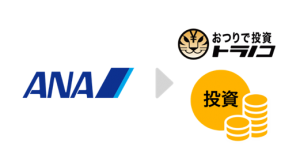 <Terms of Mile Investment>
・Members of ANA Mileage Club can convert 1,000 miles into 500 yen investment (conversion rate of 50%) by linking the mileage account via the TORANOKO app.
・Miles can be invested easily on the TORANOKO app, requiring only a one-click action.
For details of the "Mile Investment" service, please refer to the designated Mile Investment Page on the TORANOKO website (Japanese only).
In launching the "Mile Investment" service of ANA miles, Mr. Takeshi Inada of ANA X Inc., the provider of ANA Mileage Club program, said: "I am delighted to offer the option to invest our miles with TORANOKO to ANA Mileage Club's 31 million members. ANA X will continue to create new value for our customers by collaborating and jointly creating with our customers and business partners."
TORANOTEC Ltd.'s President & CEO Justin Balogh said: "At TORANOTEC, we are developing a world in which everyone can engage in wealth creation by utilizing their "hidden assets" that are generated from their daily consumption and activities. With many people flying on business trips or for holidays and accumulating their air miles each year, we are delighted to offer the innovative "Mile Investment" service to ANA Mileage Club members, which allows them to easily use the leftover miles for their wealth creation before they expire. We will continue to widen the scope of other investable "hidden assets" to enhance TORANOKO as an attractive wealth creation tool."
About TORANOKO
TORANOKO is a unique investing app provided by TORANOTEC Asset Management Co., Ltd., offering a link between the world of daily consumptions and the world of wealth creation. Sourcing the transactions data of everyday life and in creating a gateway through which small change and loyalty points can be invested from 5 yen in 1-yen increments, TORANOTEC offers the easiest possible entry point to begin investing, expanding the access point to wealth creation and investing for Japanese consumers. Details of TORANOKO can be found here: (https://toranoko.com) (Japanese only)